Available Booking Dates
Click on a date to request a booking
---
Corriemulzie Lodge Fishing
---
The let of Corriemulzie Lodge comes with Salmon fishing on the rivers Mulzie and Einig and Trout fishing on 6 hill lochs.
The River Mulzie
The Mulzie originates at the base of Scour, the Estate's most iconic hill, where it flows out of Loch Chorie Mhoir and then meanders down the strath, towards the Lodge, providing many shingle banked pools that often hold fish reaching the end of their journey up river.
Below the lodge the Mulzie begins to carve through the ancient rock creating narrow, but deep pools, where delicate casting and careful tactics can prove extremely rewarding.
The river then meets the Rappach at the junction pool, a favorite spot for teaching beginners, where they then form the Einig.
---
The River Einig
The Einig continues to cut through the ancient rock in quite dramatic style, slowing every now and again to create fishable runs before it reaches the Craggan falls, a wonderful place to take a rest from fishing and watch the running Salmon fight their way up.
Below the Craggan falls the Einig continues East towards the Einig falls where there is a few last fishable pools before it flows over the Perch into Lower Oykel waters.
---
Loch Chorie Mhoir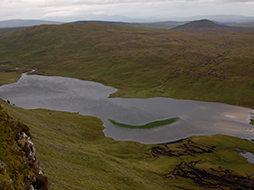 The most popular loch on the Estate, and a truly stunning place that words cannot describe.
Access: 4X4
Fishing: From the bank or by boat (outboard provided)
Fish: Salmon and Brown Trout
Shelter: Stone bothey with open fire, wood burning stove and basic sleeping quarters.
---
Luchd Chorie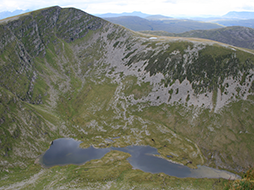 Nestled in the shadows of Seana Bhraigh and Scour, you'd barely know it was there, but would not regret the walk up.
Access: 45min walk from Loch Chorie Mhoir
Fishing: From the bank only
Fish: Golden Brown Trout
---
Toll Lochan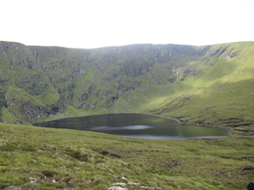 A rarely fished loch due to the lack of access, but if you do brave the walk then you will not be disappointed. On the right day, the dry fly fishing can be exceptional.
Access: 2 hour walk from the Crow's Nest car park
Fishing: From the bank only
Fish: Brown Trout
---
Lochan Badan Glasliath (Keas)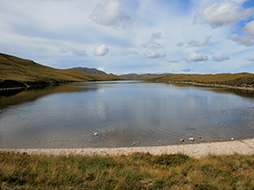 Two lochs side by side, the larger of which is stocked with Rainbow Trout. This loch produces some of the Estates biggest Trout.
Access: 4X4
Fishing: From the bank and by boat (outboard provided)
Fish: Rainbow and Brown Trout
---
Clais Mor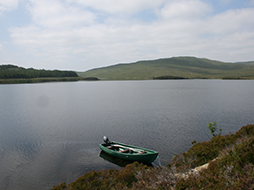 This loch is often over looked as it is a short drive off the Estate, but it really is worth a visit as the fishing here can be some of the best.
Access: 10min Argo ride / 20min walk from the car park
Fishing: From the bank and by boat (outboard provided)
Fish: Brown Trout
---